The Breezy 1 is a modern 40 foot Luhrs open express. It has been quoted as one of the most overbuilt vessels ever designed. With a beam of 15 feet and over 200 square feet of deck and cockpit space, it is more than enough fishing room for you and your party.
The Breezy 1 is fully rigged with:

Color fishfinder
70 mile weather/fog radar
Live XM Weather
GPS mapping navigation
Computer controlled autopilot
Cellular telephone
Clean private restroom
And all USCG Approved safety equipment
All of the tackle we use is the best we have found for sportfishing for salmon and trout. We use the lightest rods we can use such as Shimano and Ugly Stiks. The reels we match our rods with are Daiwa and Shimano reels. We use 12 and 17 pound test line for ultimate fighting, arm wrenching experience in each fish you hook up with. With thousands of bait selections to choose from on the boat, we always have what the fish want.
When is a good time to go fishing on the BREEZY 1?
Anytime is a good time to enjoy the BREEZY 1, but here is a basic overview from previous years.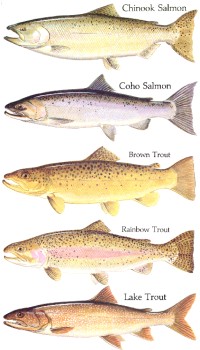 April – June
Salmon mainly: You can expect almost all our spring trips to be limit catches. This is the time of year that is highly recommended if you want super-fast action. Many times we have three or more fish on at once. April and May are popular months, especially for the younger fishermen in the family, because there is constant fishing action. If you have not yet experienced this fantastic, fast-paced fishing, this is the year to do it. This is your best time frame of the season to catch higher percentage of Salmon per trip.
July – August

Mixed Species Bigger Fish: This is the best time of the year for the biggest and heaviest catches. The Big Kings start to show up around the middle of July. The fishing is not as fast as in the spring, but often all five species of fish are caught on a single trip. Fish range between 8 and 35 pounds!! We again had fantastic Big King Salmon, Rainbow Trout and Lake trout action in 2019. These fish are generally found in deeper water than we normally fish, sometimes 15+ miles offshore. The weather is generally warm and the lake calm. Longer trips are highly recommended such as 8 hours minimum of 6 hours due to running offshore this time of the season.
September – October
Fall fishing continues to focus on bigger fish. Huge Lake Trout begin to school up on the reefs, plus browns, rainbows and medium kings move in from the deeper water. This is your last chance to stock the freezer for winter!