The Breezy 1 is a Trojan 10 meter International express sport fisherman.  It has been quoted as one of the most overbuilt vessels ever designed.  With a beam of 14 feet and almost 200 square feet of deck and cockpit space, it is more than enough fishing room for you and your party.
The Breezy 1 is fully rigged with:

Color fishfinder
40 mile weather/fog radar
GPS mapping navigation
Computer controlled autopilot
Cellular telephone
Clean private restroom
And all USCG Approved safety equipment
All of the tackle we use is the best we have found for sportfishing for salmon and trout.  We use the lightest rods we can use such as Shimano and Ugly Stiks. The reels we match our rods with are Daiwa and Shimano reels. We use 12 and 17 pound test line for ultimate fighting, arm wrenching experience in each fish you hook up with.  With thousands of bait selections to choose from on the boat, we always have what the fish want.
When is a good time to go fishing on the BREEZY 1?
Anytime is a good time to enjoy the BREEZY 1, but here is a basic overview from previous years.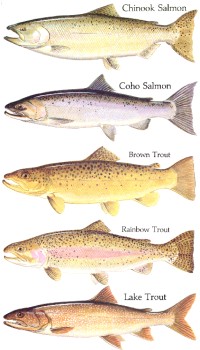 April – JuneLimit catches of Coho Salmon are common with catches of Chinook "King" Salmon and Lake and Brown Trout mixed in.
July – August
Limit catches can still happen with excellent Lake Trout averaging 12-20 lbs each, and Rainbow "Steelhead" Trout averaging 8-20 lbs, and also Chinook Salmon averaging 10-25 lbs.  This is a great time frame for a mixed bag.
September – October
Tackle buster time!  This is a great time to catch the Chinook Salmon when they are staging to spawn.  Lake Trout and Coho Salmon, mixed in with some Rainbows  can also be caught.